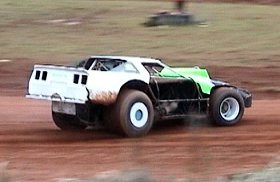 02-07-2003
Macgors comment
While at the Taipa Queen's Birthday meeting I couldn't help but notice the super saloon number 99 blasting around the track .
The car looked the goods and the driver seemed to know his stuff . I didn't catch the drivers name at the time and after returning home I was annoyed at myself for not finding out more .
Soon after publishing my review of the Taipa meeting an email arrived from Macca himself giving me his name . That was all well and good but I wanted to know more so a bunch of questions was fired off in a return email and I''m very grateful to Shane (MACCA) McInteeer for taking the time to respond as published below .
All the best for the new season MACCA

---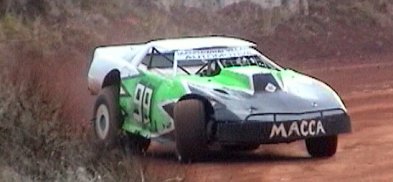 Shane 'MACCA' McInteer
MY RACING HISTORY WOULD STEM BACK THE BEST PART OF 10 YEARS BUT COULD PROBABLY BE COMPRESSED
INTO 2 MAYBE 3 SEASONS. WHAT I MEAN BY THAT IS NOT MUCH TRACK TIME BUT MORE BREAKAGES AND REBUILDS THAN I CARE TO REMEMBER. NOT THE CORVETTE MIND YOU.
I STARTED RACING A VW BEETLE AT WELLS FORD IN 93- 94 SEASON UNTIL THE TRACK WAS CLOSED DOWN DUE TO THE
THEN NEW OSH LAWS. THE TRACK WAS ON PRIVATELY OWNED LAND. THE VW WAS OLD AND RUSTY BUT HAD ONE
HELL OF AN ENGINE IN IT. 2164 CC, HILBOURN INJECTED,TURBO CHARGED, METHANOL BURNING MONSTER.
IT WAS ALSO DRY SUMPED WHICH MEANT IT WAS A PLUMBERS NIGHTMARE. WHEN IT WAS GOING IT WAS AWESOME BUT MORE OFTEN THAN NOT SOMETHING WOULD BREAK. IF NOT THE ENGINE ,THE GEARBOX OR AN AXLE.
ANYWAY WHEN WELLSFORD CLOSED WE TOWED THE VW TO A NUMBER OF TRACKS AND RAN AS A" B GRADE " CAR.THOSE TRACKS WERE DARGAVILLE, WHANGAREI, WAIKARAKA, MEREMERE AND WHITIANGA. THERE WAS SUCCESS AS I HAVE A FEW TROPHIES TO REMIND ME.
THEN LAST YEAR IN FEBRUARY I SAW MURRAY BAKER "SUPER SALOON 34A" HAD HIS CAR FOR SALE . I WAS KEEN TO
HAVE A LOOK AT THE CAR AS I KNEW THE CAR QUITE WELL HAVING SEEN IT EVEN BEFORE MURRAY BOUGHT IT.
RON TAYLOR FROM NELSON RACED IT IN AUCKLAND AT THE 2000 NZ CHAMPS AND I LIKED IT EVEN THEN.
I BOUGHT THE CAR AND RACED IT AT WHANGAREI FROM MARCH LAST YEAR FOR THE REST OF THAT SEASON WITH THE INTENTION TO GO TO WAIKARAKA 02-03 SEASON.
THAT PROVED NOT TO BE AS THE ENGINE WAS PULLED DOWN AND HAS ONLY JUST GONE BACK IN THE CAR 2 MONTHS AGO. (A COUPLE OF PROBLEMS).
TO DATE I'VE RACED THE CORVETTE 11 TIMES AND ARE LOOKING FORWARD TO WAIKARAKA NEXT SEASON.
ALL WE REALLY HAVE TO DO IN THE OFF SEASON IS TO PAINT THE CAR PROPERLY AS AT TAIPA IT WAS SPORTING THE 2 HOUR "DO WE OR DON'T WE "LIKE PAINT JOB AND SIGN WRITING AS LITTLE OLD MANGAWHAI HAS GOT SOME SMALL BUSINESSES KEEN TO HELP.
ABOUT THE CAR, IT WOULD BE 10 SEASONS OLD. IT'S A LOVELADY CHASSIS RUNNING AN INJECTED 406 CHEV. BERT GEARBOX AND A SPEEDWAY ENGINEERING QUICKCHANGE DIFF.

---
Here is a lil history on the car: (Thanks to Craig Miller)

The car was built for Doug Smith and made its debut in 1991 at Woodford Glen.
The running gear from Dougs old car (an American chassis) was used in this new car (Howe front end, leaf spring rear end. With tru track Q/C).
Not sure how long Doug owned the car for but when he did sell it it went to Trevor Whiting
(local driver from down here).
After that I think Ron Taylor ended up with it.

| | |
| --- | --- |
| | |