09-11-2002
Waikaraka Park
Nth Island Super Saloon Series + Fireworks
by Macgor

Once again the weather was doing it's best to dampen the speedway spirit although it limited itself to just being windy and very cool on this night . The crowd didn't stay away as it normally would though and by the time they all arrived things were quite cosy in the stands . Obviously the advertising all around town and the new improved show on offer is quickly starting to pay dividends
.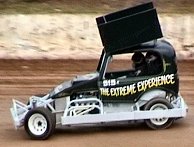 Two lucky punters won a turn each in the
Extreme Experience two seater Stockcar thrill ride
chauffeured by one time NZ Champ Lyall Rumney .
Super Saloons
The draw card of the night and the ultimate test for the new track surface at Waikaraka Park .The entry list was 20 cars strong but no shows by 21s Newton Gordge and 91m Andrew Marks combined with 98a Graeme Andrews not intending to run the series dropped the field to seventeen cars . Still a good field with plenty of stars on hand .
Heat 1
White= Did Not Start

| | | | | | | | | | | | | | | | | | |
| --- | --- | --- | --- | --- | --- | --- | --- | --- | --- | --- | --- | --- | --- | --- | --- | --- | --- |
| Start order | 66s | 6p | 81m | 25h | 61p | 8m | 5b | 11m | 35m | 43p | 2nz | 96a | 68s | 3nz | 97m | 45a | 31p |
| Finishing order | 66s | 81m | 6p | 8m | 2nz | 11m | 35m | 96a | 3nz | 43p | 68s | 45a | 25h | 97m | | | |
31p Rod Clifton headed for the grass long before the green dropped . Skinny was off the front so there was no doubt who the winner would be . 8m Geoff Fletcher made his intentions clear from the start and in the first lap used the outside lane to gain two positions .
His second lap was a disaster though when he spun a full revolution in turn two causing a major carnage incident for those following .
Caught up were 61p Kevin Gimblet , 43p Mick Quin , 5p Steve Flynn and 25h Don Galletly . There were others rubbing panels in avoidance too . All but 5p and 61p were able to join the restart but with these two on the infield alongside 31p the centre field was starting to look like a Palmerston parking lot .
The rest of the race ran clean , a lot of fast good handling cars racing side by side often and no doubt wondering where the heck that 66s guided missile had gone . Quite a few found out when 66s appeared beside them and headed of into the distance leaving them a lap down . Stunning performance by Skinny Colson who doesn't button off even when he has the race won by a country mile .

Heat 2
White= Did Not Start
Note Start Order may contain minor errors

| | | | | | | | | | | | | | | | | | |
| --- | --- | --- | --- | --- | --- | --- | --- | --- | --- | --- | --- | --- | --- | --- | --- | --- | --- |
| Start order | 43p | 2nz | 96a | 5p | 3nz | 68s | 45a | 97m | 66s | 6p | 81m | 31p | 61p | 25h | 35m | 8m | 11m |
| Finishing order | 2nz | 66s | 3nz | 43p | 8m | 81m | 96a | 11m | 35m | 25h | 6p | 97m | | | | | |
The track was looking slick and dusty in this heat but it didn't seem to be hampering anyone unduely .
Plenty of side by side racing and this seemed to be Skinny's biggest problem as in there was no free lane for him to work his magic in .
I didn't quite see what happened but it seemed some sort of skirmish between 96a Lance Jennings and 45a Glen Turner set off a chain of events that had Turner spinning on to the infield , 3nz Donald Gregory did the pit turn through the infield . 68s Murray Pierce pulled infield with rear damage and a fire underneath keeping his feet warm .
It all seemed to sort itself out and there was no caution flag needed .
Skinny was fooled though and had slowed expecting the yellow which never came . 8m Geoff Fletcher was one I saw take advantage and get past 66s car at this point .
Once he got his mind back on the job Skinny tracked down Fletcher passing the 8m around the outside as he did with 3nz Donald Gregory a short time later to claim third running spot . Leading by a long way was 2nz Martin Halcrow and some way back in second was 43p Mick Quin who seemed to be fair honking along in his Mercedes hybrid . Skinny eventually reined Quin in and took up 2nd spot and then set out after Halcrow .
Halcrow was about a third of a lap ahead at this stage .
It took Skinny a couple of laps to make up the distance but he was in striking distance as the white flag fell .
Lapped traffic kept Skinny at bay for most of the last lap but the 66s was breathing all over the back of 2nz when they arrived at the finish line . Donald Gregory had got past Quin for third position .
Further down the pack there was the hell last lap battle going on between 11m Kevin Moore , 96a Lance Jennings and 35m Darren McKinley for seventh place . They were three wide coming off the fourth turn with Moore standing on the loud pedal hard in a ' Do or Die' effort to get to the line ahead of the other two . For my money he did the 'do' even if the results say different . He also did the 'Die' coming to rest in a cloud of steam atop the cemetery bend wall .

Heat 3
White = Did Not Start
Note : Start order is how they appeared on the track rather than their allocated positions

| | | | | | | | | | | | | | | | | | |
| --- | --- | --- | --- | --- | --- | --- | --- | --- | --- | --- | --- | --- | --- | --- | --- | --- | --- |
| Start order | 35m | 97m | 11m | 45a | 8m | 3nz | 25h | 31p | 81m | 2nz | 6p | 43p | 66s | 5p | 96a | 61p | 68s |
| Finishing order | 66s | 8m | 45a | 2nz | 6p | 97m | 81m | 43p | 25h | 35m | 31p | | | | | | |
As the night progressed we were kept up with the state of play courtesy of Malcolm Sines interviewing drivers in the pits and the most unusual one was with Lance Jennings . If I heard correctly Lance was saying something along the lines of the track was good but his car was a pig in the handling department so he was loading it on it's trailer and would try and figure the thing out at home . What seemed strange to me was the fact he had achieved a seventh placing and an eight placing in the two heats run so far and that was better than half the field had managed . Maybe I heard it wrong .
Skinny off the back on a track that was slick and dusty . How good was Skinny? , well one lap was enough for him to move from 13th all the way up to 7th . Check the grid table above to see the calibre of car and driver he blasted by . Approx 6 laps later Skinny was leader of the pack and breaking away .
A lap or two later and 6p Grant Flynn spun in turn one and was collected by 43p Mick Quin causing a yellow , both cars rejoined the
race .
Several laps later Donald Gregory spun in pit bend but everyone managed to avoid him and he restarted from the rear . Kevin Moore retired at this point with over heating which was a result of damage done in his wall escapade in heat 2 .
Darren McKinley was the next spinner several laps later , in fact I think Skinny had taken the white flag , but once again everyone was alert and avoided the stopped car .
The restart after the yellow went fine and Skinny went under the white flag for the second time . I'm not sure whether he actually made it back to the finish line before a bit of a tangle on the back straight had 3nz Donald Gragory nosing into the wall and rolling onto his roof . A small fire broke out but otherwise damage appeared minor .
The race was not restarted again and Skinny was handed his well earned winners flag for a lap of honour . The watching crowd were in awe of the stunning display that Skinny had performed over the course of the evening and I was most satisfied that Waikaraka had at long last provided a decent track for him to work with .
Is this way out wide enough for you?

| | |
| --- | --- |
| | |
| | |
| | |
| | |
| | |
| | |
| | |
| | |
Ltd Saloons
10 cars although not a purely Ltd field with both non series supers of 98a Graeme Andrews and 88m Tony Cardwell joining in for the night . 46a Nigel Ross and 58a Gavin Hinsley were the star movers as they battled each other nearly every lap of the night . They didn't claim all the wins though as 21m Steve Williams reveled in the track conditions to claim a win for his powerful Mustang . 13m Murray Guy had probably his best night ever and won the feature in fine style . Ross was successful in the first heat . Of interest was Steve Louden running the 97a Robin Thoma car . Over the course of the evening Louden transformed the car from an also ran into well handling car that was able to run with the fastest .
Agrade Stockcars
14 cars started the night . 51m Rodney Wood was always going to be the starring act and as expected he was highest points scorer in the heats and elected to start the feature from the rear and try for the bonus money on offer as did 337r Darcy Hunter who was second place points scorer . There was hope among the Auckland fans that the locals would defend their prize money pool but alas it was not to be and Wood blasted through the field knocking cars aside and took up the front running within a few laps of the start . Hunter took longer but eventually made his way through to second place while the rest of the field jostled with each other .
24a Shay Hambling debuted for the season but despite an impressive turn of pace didn't last the first heat distance and his night was over already . 62m Neville Stanaway well performed to win heat two . 51m Rodney Wood won heat one along with the big money
feature .
515r Stan Hickey had an off night with what appeared to be car trouble keeping him out of the results and off the grid for the feature .
The feature race ended with Gary Ellis inverted in cemetary bend , I didn't see the instigator but have been informed 7a Dayne Wright was the culprit .
85h Jarred Wade continued his bad run at Waikaraka when the drive line on 85h broke on the start of heat 1 . To add insult to injury 7a Dayne Wright managed to hit him a lap later .
Std Stocks
24 cars on hand including visitors from Baypark and Huntly . The action improved as the night progressed with lots of little battles happening all over the place . The locals were on the ball keeping the visitors barren of wins and only allowing a returned to form 22h Blair Ashton a third place finish in heat two . 67a Nick Krsinic won heat one with 66a Peter Church excelling for wins in heat two and the feature . Good racing that is getting better meeting by meeting .
The welding on 16m failed the crash test which left the rear of the car spread accross the track . there was a suggestion that Kevin Free was having a pedal in his old car .which may explain why it was going so well .
Streetstocks
18 cars I think , including a couple of southern visitors . Plenty of contact meant plenty of entertainment for the crowd . Worth mentioning too is the improved presentation of the cars so far this season .Obviously the time and effort is being put in between
meetings.
Neville McNabb in the 11a Charger won three from three which is quite amazing considering the action that was happening out there .
His brother Mark McNabb in the Holden 12a twice came home second making it a really successful family night out at the speedway for the McNabbs .
Ministocks
27 or 29 cars and mostly good racing with some not so accidental contact happening . Add in a roll over for drama and most watchers were satisfied with what they saw . 85h Cameron Wade won the feature . Other winners were 71m and 9r .
Fireworks
I don't usually bother too much with fireworks displays but this one was worth watching . Man was the grandstand ever shuddering in repercussions from the booms over head . Good stuff!! .
Overall
Chalk up the second successful meeting in a row for Waikraka Park and at $12 per adult head the best value speedway on offer
anywhere .
Probably the meeting ran a little late finishing just after 10.30 pm but considering the amount of racing on offer and then the fireworks
as an extra it's hard to be critical .